Our live broadcast of the 2015 International Village is available here from 5 to 9 p.m. Aug. 11, 12 and 13, 2015.
Support for this broadcast comes from:

The Sunset Room, the region's number one choice for banquets and receptions
Smallies on the Yough, your local expert guides for fishing tours and more
The Carriage Inn, offering catering and outstanding meals for the entire family; and
Readers of Tube City Online
Welcome to the heart of America's Historic Steel Valley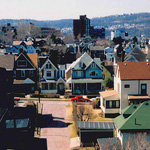 Tube City Community Media Inc. is a non-profit corporation, chartered in the Commonwealth of Pennsylvania, that promotes conversations about the future of the McKeesport, Pa., area; highlights the positive activities not being covered by the mainstream news media.
We encourage McKeesport-area residents, both past and future, both young and old, to become not just consumers, but community activists and creators of content about the McKeesport area in text, audio, and video form.
Tube City Community Media is volunteer driven! We encourage your participation. If you've got something to say about the McKeesport area, we would like to help you say it.
Why is the website called "Tube City Online"? Because McKeesport was once the world capital of steel pipe manufacturing and was known as the "Tube City." McKeesport also has a "Tube City Cafe" and a "Tube City Beer Distributing," and even had a "Tube City Brewing Co." and a semi-pro baseball team called the "McKeesport Tubers."