Putting in the fix
Academic exercise or pre-meditated swindle? The 1980 Pennsylvania Lottery scandal left an indelible mark on the lives of many in the Mon Valley.
Ask anyone in Western Pennsylvania what the number "666" means, and they'll regale the listener with the myth and fact of the 1980 lottery fix, executed at WTAE-TV in Wilkinsburg. And though not strictly a McKeesport story, it has touched so many people so deeply --- ending, in many respects, the career of one of Pittsburgh's most beloved personalities, Nick Perry --- it deserves to be told in full. Through its connections to the Mon Valley numbers racket and in its communities like Braddock Hills, Monroeville and Wilkinsburg, the legend truly belongs to the region.

The story was written in 1999.
| | |
| --- | --- |
| | |
| | Close examination of the rigged drawing showed that the "6" and "4" balls popped to the top of the lottery machine too quickly. (Author's collection) |
| | |
By Jason Togyer

Nick Perry has been silent for two decades about the scandal indelibly linked with his name: the infamous "666" Daily Number drawing of April 24, 1980.

But Pennsylvanians have been talking ever since, investing the story with its own mythology, retelling it whenever a glitch disrupts a lottery drawing.

The scandal made national headlines, ended several careers and changed the way state courts looked at computer crime. And now (1999) Hollywood filmmakers are getting into the act, with plans to produce a movie loosely based on the incident. Shooting could begin next summer in Harrisburg.

Retired and living in Highland Park, Perry said recently that he wasn't surprised. "I'm never shocked at what they do," he said.

Neither is the prosecutor who put Perry and lottery official Edward Plevel in prison, former Deputy Attorney General Henry G. Barr.

"I was a little surprised that years ago, someone didn't base (a movie) on the case," said Barr, now an attorney with Meyer and Shapira, Downtown.

But some --- including Plevel's attorney, Thomas Ceraso of Greensburg --- wish everyone would let the incident drop.

"It's over and done, it's a dead issue as far as we're concerned," he said.

Plevel, who still lives in Monessen, where he served as city councilman before the scandal, declined comment. Ceraso said the rehashings of the tale have harmed his client's livelihood.

"It's somewhat tragic because it always portrays him in a light that is not Ed Plevel. He's a good, good person. ... It's just one of those things that occurs in your lifetime."

: : : : : : :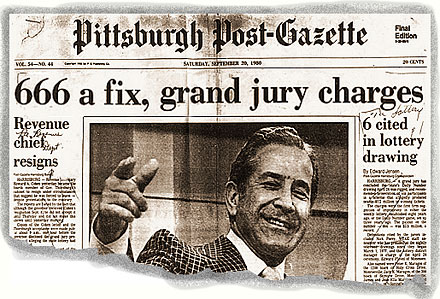 Pittsburgh Post-Gazette headline of Sept. 20, 1980. (Author's collection.)
: : : : : : :

Ground zero for the scandal was Perry's announcing booth at WTAE-TV's studios, which then produced the drawings. The lottery bureau had no broadcast facilities at the time; the drawings were moved to Harrisburg after the scandal broke.

State officials called Perry the "mastermind" of the scheme because he was the one man linking all of the members of the conspiracy.

Besides Plevel, who supervised the nightly drawings, others implicated included former WTAE art director Joseph Bock, stagehand Fred Luman, and Peter and Jack Maragos of Monroeville, members of Perry's church and business partners with him in a vending machine company that supplied WTAE.

"It's a sad, sad thing that this happened," said KDKA-TV anchorman Don Cannon, a WTAE anchor at the time, "because a lot of good people were hurt by it."

A broadcasting pioneer, Perry was a former radio personality who had joined Pittsburgh's first television station, WDTV, when it went on the air in 1949. After WTAE signed on in 1958, Perry joined the Wilkinsburg station and worked as a booth announcer, doing station breaks and voiceovers. Perry also hosted a long-running game show called "Bowling for Dollars."

Yet he wasn't the first choice for the lottery's master of ceremonies. The original emcee was Tony Mowod, currently host of a popular late-night jazz show on WDUQ-FM.

According to published reports, a few lottery officials claimed Mowod's delivery was "dull and unexciting," and replaced him with the avuncular Perry.

Perry's words at the end of each drawing --- "If you've got it, come and get it, if not, better luck tomorrow" --- became a catchphrase for more than a million viewers.

In fact, Arbitron reported that the Daily Number was the top-rated broadcast in Pittsburgh at 7 p.m., outdrawing even the CBS news with Walter Cronkite.

According to testimony at Perry and Plevel's trial, Perry approached Peter Maragos in February 1980 with the idea of fixing the lottery.

"Pete, what I'm about to tell you I don't want you to tell no one," Perry said, according to Maragos' testimony. "The lottery can be fixed."

: : : : : : :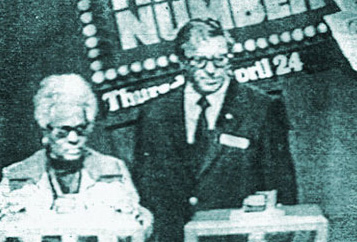 The fixed "666" drawing looked like this to TV viewers at 7 p.m. April 24, 1980. Here, senior-citizen observer Violet Lowery looks unwittingly on as the rigged balls are drawn. At right is lottery official Edward Plevel, who was also implicated in the fix. (Author's collection.)


: : : : : : :


Indeed, despite protestations to the contrary from state officials, security for lottery drawings was shockingly lax.

"Essentially there was none," said Barr, the former prosecutor. "I thought it was incredible."

The lottery balls and machines were kept in a room locked with two keys, according to a 1979 magazine feature story about the lottery.

But the grand jury that indicted the conspirators in September 1980 learned that Perry had one key, and Plevel --- the Western District supervisor for the lottery --- had another.

And though practice drawings were to be held before each drawing, Plevel and Perry were the only observers.

According to testimony, Perry asked Bock to find a way to weight the numbered ping-pong balls used for the lottery drawings.

After experimenting, Bock found that a few grams of white latex paint, injected into the balls with a hypodermic needle, made them too heavy to be selected by the air-powered lottery machines.

Then --- using decals from a stationery store --- Bock made a duplicate set of lottery balls. Luman was asked to swap the phony ones for the real ones.

After several test runs, the conspirators weighted all of the balls except the numbers "4" and "6." On April 24, the Maragos brothers and others fanned out across the state to purchase lottery tickets in eight different combinations.

They also placed bets on the lottery with illegal bookmakers. That proved their downfall.

The bookies noticed the unusually heavy play on 4 and 6 combinations. And as soon as the drawing left the air, they put the word on the street that they weren't paying off.

For the state, the 666 lottery payout was by far the largest in the Daily Number's history --- $3.5 million, including some $1.18 million for tickets that members of the conspiracy purchased.

: : : : : : :

Cannon, the anchorman, heard the first rumors of a fix on the night of the drawing, when he ducked into a Wilkinsburg restaurant to have dinner.

"The waitress said, `You know that number was fixed,'" Cannon recalled. "I laughed. I said it can't be possible."

Though lottery officials say triple-digit numbers are always heavily wagered, the number 666 raised a few eyebrows. Some Christians believe the combination has Satanic overtones because it's mentioned in the Book of Revelation.

By May, rumors of a fix were in the press. And though lottery officals issued firm denials, the state Attorney General's office began an investigation.

At WTAE, News Director Joe Rovitto pulled a videotape of the drawing from the station's files.

"We looked at it, slowed it down frame-by-frame," Cannon said. "All of the other balls were staying flat --- only the 4's and 6's seemed to be buoyant. That's when we started investigating it thoroughly ourselves."

: : : : : : :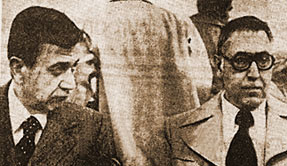 Brothers Peter and Jack Maragos were also implicated in the fix. (Author's collection from newspaper clipping, photographer unknown.)


: : : : : : :


Eventually, the Maragos brothers and Luman and Bock agreed to testify against Perry and Plevel in exchange for lighter sentences.

Perry and Plevel were convicted May 20, 1981 by a Dauphin County jury on charges including criminal mischief, criminal conspiracy, theft by deception and rigging a public contest.

Computer records of ticket purchases and telephone calls between the conspirators and the announcer's booth at WTAE proved crucial, Barr said. "The fact is, they just didn't know how much the computers would be able to trace their movements," Barr said.

And stores in Philadelphia, Erie, Pittsburgh, Monroeville and elsewhere remembered the unusually heavy ticket purchases. Peter Maragos bought $1,413 at one location, officials said.

Pennsylvania courts had never handled a case which stretched through so many jurisdictions, Barr said. Justices finally ruled that Dauphin County had jurisdiction because the lottery's mainframe computer was located there.

Former WTAE reporter Lynn Boyd Hinds, now a historian and professor of communications at Drury College in Springfield, Mo., said Perry's implication in the crime was stunning. Hinds --- who occasionally filled in for Perry as an announcer --- was among those questioned.

"It was a scary sort of thing," he said. "I asked him, Nick, did you do this? And he laughed. We made a joke about it."

Hinds still has a hard time believing it. He thinks the fix may have been an academic exercise until the temptation to try it became too great.

"They weren't your typical criminals by any stretch of the imagination," Barr said. "They didn't seem to need the money --- they may have just wanted to see if they could do it."

Perry last week declined to offer his own opinion on who else may have fixed the lottery. He chalked his arrest and conviction up to "poor investigation."

Retired WTAE broadcaster Paul Long, Cannon's onetime co-anchor, said he once asked Perry about the fix.

"I mentioned something in a lighthearted vein and he sort of turned on me," Long said. "He said, `You're like all the others. You think I did this thing.'"

"He was very sensitive about it, and he insisted to the end that he was not guilty," Long said. "He's done his penalty, if there was one justified. Do I really believe he's guilty? I don't know for sure."

One detail sticks in Long's mind. During the investigation, someone needed Perry's phone number and couldn't find it until they remembered his real name was Nicholas Katsafanas, Long said.

They found the listing in the Pittsburgh white pages --- on Page 666. "I've remembered it ever since," Long said, chuckling ruefully.



© 1999 Jason Togyer. All rights reserved. A different, much shorter version of this story originally appeared in the Pittsburgh Tribune-Review. Pittsburgh Post-Gazette and the logo are trademarks of PG Publishing Inc. and are used here for illustrative purposes only; the portion of the P-G front page reproduced here is believed to be a fair use under U.S. Copyright Law; neither the Post-Gazette nor the Tribune-Review has endorsed or approved this content. The images from the lottery drawing were originally released by the Pennsylvania Lottery Commission and are believed to be in the public domain. For permission to use this story, please contact me.